Browse Journals
ISSN 2475-9643
Welcome to the
Journal of Vincentian Social Action
.
JoVSA is published biannually, engaging the greater community in the service of the disadvantaged.
The journal provides a scholarly forum for those working to address community-defined needs; a forum where practical solutions are presented to address the plight of the disadvantaged and needy. Measurement and assessment of these efforts connecting action to outcome are a critical component ensuring positive results and real change in the lives of the disadvantaged.
JoVSA welcomes research articles, position papers, and conference proceedings. See the
Aims and Scope
for a complete coverage of the journal.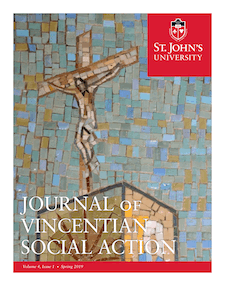 The Reading Professor is a peer-reviewed publication of Professors of Literacy and Teacher Education (PLTE). The journal features scholarly articles on literacy education and research, including applied research on practice in literacy education settings. Papers may focus on innovative instructional strategies, course development, professional issues, literacy policies, important initiatives, and other topics. The journal publishes professional essays and book reviews. The Reading Professor appears online semi-annually and is available for download.