Welcome to the
Journal of Vincentian Social Action
.
JoVSA is published biannually, engaging the greater community in the service of the disadvantaged.
The journal provides a scholarly forum for those working to address community-defined needs; a forum where practical solutions are presented to address the plight of the disadvantaged and needy. Measurement and assessment of these efforts connecting action to outcome are a critical component ensuring positive results and real change in the lives of the disadvantaged.
JoVSA welcomes research articles, position papers, and conference proceedings. See the
Aims and Scope
for a complete coverage of the journal.
Current Issue: Volume 4, Issue 2 (2019) WARS, CONFLICTS, AND THE MARGINALIZATION OF DISSENT
Front Matter
Articles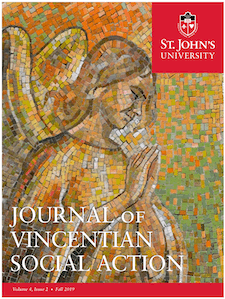 Special Issue Editors
Editor

Tuija Parikka, Ph.D.
Assistant Professor of Communication Arts

Editor

Basilio Monteiro, Ph.D.
Associate Professor in the Department of Mass Communication, and Director of the Graduate Program International Communication

Editor

Sejal Singh, Esq.
Assistant Professor in the Division of Criminal Justice, Legal Studies & Homeland Security.